William Saunders
Organist, conductor and music educator
William Saunders is one of Britain's leading young concert organists, with an extensive schedule that includes many distinguished venues across Europe. He tours Germany annually and has performed recitals in including Hamburg and Cologne Cathedrals and the St Marien Church in Lübeck. His musical activities in the United Kingdom have included performances at the Cambridge Summer Music and Oundle International Festivals, and he has also accompanied the Kings Voices, the mixed-voice chapel choir of King's College, Cambridge and Aldeburgh Voices, a choir established by Benjamin Britten.
"If you're looking for an all-rounder – accompanist, choral conductor, artistic director, project manager or recitalist – you get the full package with William! I've greatly enjoyed working on many and varied different projects with him."
Ben Parry, Artistic Director of the National Youth Choir of Great Britain
William's organ repertoire is varied, but he particularly enjoys performing Romantic and modern English music, which has led to the production of a number of critically acclaimed CDs in recent years. The Gramophone commends his technique for its "rhythmic vitality" and his "athletically inclined" playing.
"I have William to thank for introducing me to liturgical music, which quickly became a passion in no small part because of the opportunities that he gave me.  As an organ teacher, William has a superb knowledge of the organ repertoire and provided excellent stylistic and technical advice. It was also a joy to learn from him through his own outstanding performances."
Nicholas Freestone, Acting Director of Music at Worcester Cathedral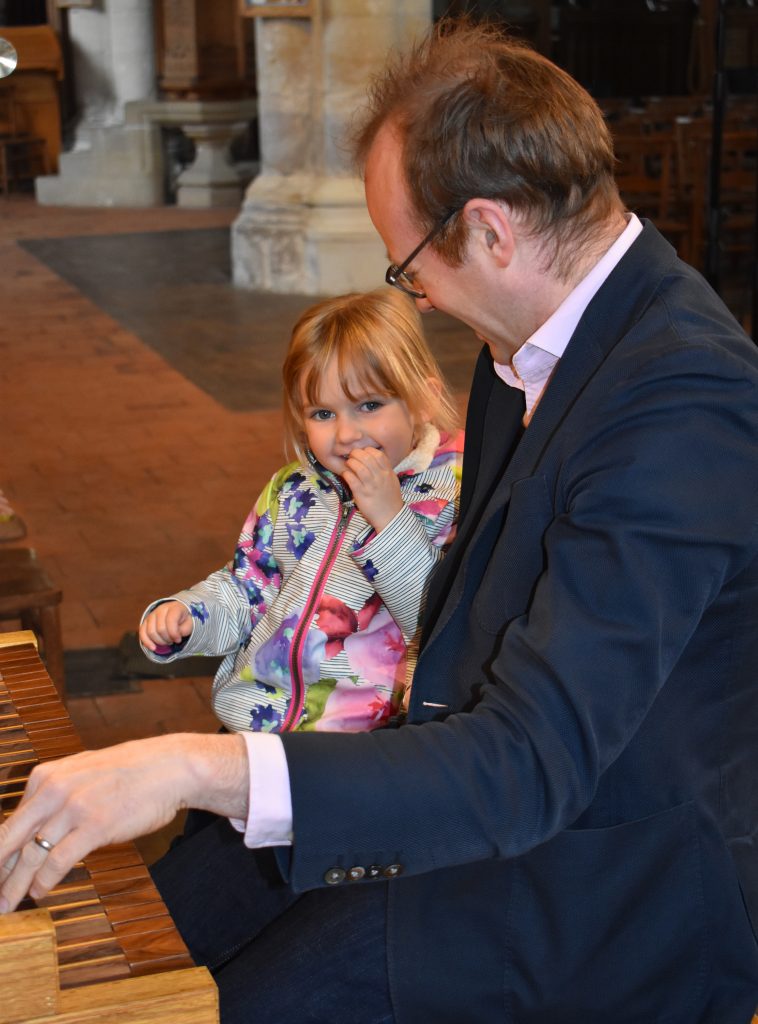 William's passion for inspiring youngsters and providing an unparalleled music education led to him holding the post of Director of Music at The Royal Hospital School in Suffolk between 2012-2019. He was responsible for a dynamic music department that undertook in excess of 80 concerts and services per year. These ranged from informal lunchtime concerts to those which attracted audiences of 800+ paying members of the public. Recent highlights have been working with the BBC Big Band, the Swingle Singers, National Youth Choir of Great Britain and forming partnerships with HM Royal Marines Training Band and Royal College of Organists. In addition, William has directed a number of highly successful ensembles including the Holbrook Choral Society; highlights included conducting The Dream of Geronitus by Elgar with 250 singers. He directed the Chapel Choir at The Royal British Legion Festival of Remembrance at The Royal Albert Hall in the presence of the royal family, which was broadcast live on BBC radio and television. He established the Sing Up Suffolk event which involved 800 primary school children annually to the school with the primary aim of making singing fun and accessible. Other conducting activities include his directorship of the Prometheus Consort, a choir that regularly leads the worship at St Paul's Cathedral when the resident choir are on holiday.
"I have sung in lots of different choirs, but never have I enjoyed singing so much than when Mr Saunders is conducting. Every rehearsal is full of fun!"
Ollie, chorister
"Singing with William is always a joy! His well-prepared and clearly-directed rehearsals communicate his enthusiasm and passion for music. He is very knowledgeable and whether we are singing Anglican psalms at evensong, or a jazz mass in concert, it is hugely satisfying and a great pleasure which I never fail to look forward to."
Isobel, enthusiastic singer
Before 2012 William was Assistant Director of Music at Ipswich School where he founded and directed the annual Festival of Music. He has also held the position of Organist at St Mary-le-Tower Civic Church, Ipswich and Deputy Organist at St Edmundsbury Cathedral.
An interest in fast cars, good food and keeping fit ensure he is kept busy even when not engaged in music!
"William really does tick all the boxes as an animateur and educator! With his excellent communication skills, natural rapport with the young, awareness of youth culture, superlative administration – not to overlook, of course, his virtuosic and arresting organ playing – he has rightly gained an enviable reputation in the field of organ education and outreach!"
Daniel Moult, Head of Organ Studies at the Royal Birmingham Conservatoire
Seit 2012 ist William Saunders Musikdirektor an der Royal Hospital School in Suffolk. In dieser Funktion ist er verantwortlich für diewichtige und umfangreiche Musikabteilung der Holbrook Choral Society mitjährlich über 80 Konzerten und Veranstaltungen. In seiner ersten Amtszeit bei RHS leitete er den Chapel Choir beim Royal British Legion Fest der Erinnerung in der Royal Albert Hall in Anwesenheit von HM The Queen undMitgliedern der Royal Family, life im BBC Radio und  imFernsehen ausgestrahlt.
Zuvor war er als Assistant Director of Music an der Ipswich School der Direktor des jährlich stattfindenden Musikfestivals, zugleich auch Organist in der St. Mary-le-Tower Bürgerkirche, Ipswich und stellvertretender Organist in der St. Edmundsbury Cathedral.
Saunderüberzeugt durch ein umfangreiches Orgelrepertoire, das ihn an viele renommierten Veranstaltungsorte in ganz Europa geführt hat.Er tourt jährlich durch Deutschland und gab Konzerte in Hamburg, den Kölner Kathedralen und in der St. Marienkirche in Lübeck, der Kirche DietrichBuxtehudes. Er trat im Cambridge Summer Music Festival und im Oundle International Festival auf und begleitet regelmäßig die von Benjamin Britten gegründeten Aldeburgh Voices.
Williams Saunders Programmeleben durch ihre Vielseitigkeit, ganz besondersliebt er aber die romantische und moderne  Musik Englands, vieles davon hat er in den letzten Jahren auf CD eingespielt, davon mehrere bei Regent Records-Label: Dignity and Impudence(St. Mary's Redcliffe), Tower Power(St. Mary-le-Tower), Animal Parade(Brentwood Cathedral) und Roast Beef & Bordeaux(Royal Hospital School).
Sein Spiel wurde kürzlich von Organists' Reviewals "makellosund so sicher"beschrieben, "dass man ihm in dem Wissen zuhören kann, dass ihn nichts aus der Ruhe bringen kann". Das GramophoneMagazinebeschreibt seine Technik als "rhythmisch vitales und athletisches Spiel".
Er ist ferner Leiter der Prometheus Consort, dasregelmäßig in der St. Paul's Cathedral, London und der Westminster Abbey singt, während die dortigen Hauschöre im Urlaub sind.
Sein Interesse an schnellen Autos, gutes Essen und Fitnesssorgt dafür, dass er ausgelastet ist, auch wenn er nicht gerade mit Musik beschäftigt ist.